Ray Anderson, founder of Interface, Inc. and a widely recognised leader in sustainable business sadly passed away recently at the age of 77.
Interface was born in 1973 and soon grew to be a billion-dollar company as the world's largest supplier of modular carpet.
After reading Paul Hawken's The Ecology of Commerce in 1994, Ray was inspired to steer his company towards achieving true sustainability. Ray was a pioneer in his field, speaking out on the need to embrace sustainable business methods and transforming his company by implicating the radical 'mission zero', a plan to eliminate all environmental impact by the year 2020.
Ray estimated, shortly before he died, that his company was already halfway towards achieving its goal: over the past 17 years Interface has reduced its greenhouse gas emissions by 24%; fossil fuel consumption by 60%; waste to landfill by 82% and water use by 82%. These measures have allowed the company to save around $450 million in costs while increasing sales by 63% and almost doubling staff earnings.
Interface was such an early mover, stealing an early march on our competition in terms of sustainability that no one has yet caught up.
Ray Anderson.
Since 2001, having transferred the day-to-day responsibilities of running Interface to Dan Hendrix, Ray had been overseeing the company as non-executive chairman while also working to champion the cause of sustainable business. Ray gave over 1000 speeches on sustainability to the business community and wrote two books: Mid-Course Correction (1998) and Confessions of a Radical Industrialist (2009), also published in paperback under the title Business Lessons from a Radical Industrialist.
Interface's success as an ethically run company did not go unnoticed by the American government: during the Clinton administration Anderson was invited to co-chair the President's Council on Sustainable Development and was later co-chair of the Presidential Climate Action Plan for the Obama administration.
Ray Anderson was crowned Entrepreneur of the Year by Ernst & Young in 1996 and was named one of TIME magazine's Heroes of the Environment in 2007.
Ray finally succumbed to cancer on 9 August 2011.
Not only did Interface and the world lose a great man today, but I lost a friend and mentor. Ray's iconic spirit and pioneering vision are not only his legacy, but our future.
Dan Hendrix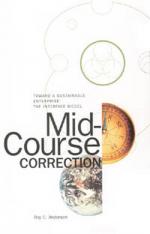 Ray's work, not only by working to conserve our planet and to improve the lives of his own employees, but by also allowing Interface's commercial success to set a precedent for his contemporaries within the business community to do the same, is a true example of what it means to do well by doing good. Ray will be missed by all who have been touched by the vision of this 'radical industrialist'.
A blog, dedicated to the memory of Ray Anderson and his industry-leading work has been set up here.


Chloe Parker
Greenleaf Publishing